The demand for flexible working and living has added a whole new dimension to the design of mixed-use spaces.
As more people strive for work-life integration and increased flexibility, more mix-use spaces that include living and workspace are being developed.
Bristol, Glasgow, Manchester, and Nottingham have incredible mix-used developments that are embracing flexible workspaces.
---
A few years ago, "mixed-use space" typically meant residential property above with retail on the ground floor – today the term is much more diverse. The demand for flexible working and living has added a whole new dimension to the design of mixed-use spaces, as developers look to recreate high streets and public squares; spaces that facilitate communities and foster collaboration between tenants.
A recent Allwork.Space article looked at how mixed-use spaces are evolving. As our work and home lives intersect, and as our need for flexibility in all aspects of our lives increases, we're seeing more plans for mixed-use spaces that include both living and workspace – and not just in London.
Regional flexible workspaces are also on the rise. At this year's BCA conference, Instant Group spoke about how they're witnessing desk rate growth in cities like Manchester and Bristol – a trend you'll see reflected in the new regional developments below.
Let's take a closer look at plans in the pipeline.
1. Fishponds, Bristol
London-based developer Frontdoor Properties is planning to transform a dilapidated industrial site in the Fishponds area of Bristol into a dynamic mixed-use space comprising of residential and workspace.
Currently, the six-acre site is home to part-occupied, part-empty industrial units which are in need of redevelopment. The main building – Filwood House – is a 150,000 sq ft property dating back to the '60s.
Chris Haworth, partner at property agent Alder King, who advised on the sale, explains: "The new owner hopes to regenerate the site to create a vibrant mixed-use scheme, similar to the Paintworks development on the Bath Road in Bristol.
"The intention is to retain and enhance employment provision on the site while also creating new housing, primarily through effective master planning and design efficiency."
Advertisement
2. Assembly Bristol
While Fishponds sits on the outskirts of Bristol, the Assembly Bristol regeneration project is situated in a well-connected urban part of the city, a five-minute walk from Temple Meads Station. This mixed-use development will span 300,000 sq ft, 200,000 of which is due for completion in 2020.
The space is designed to facilitate both local and international businesses and focuses in particular on sustainability and occupier wellness (it aims to achieve BREEAM Excellent, WELL Certification and WiredScore Platinum).
AXA IM – Real Assets and development manager Bell Hammer are leading the project.
Harry Badham, UK Director of Development at AXA IM – Real Assets, explained: "Our decision to commence the development of Assembly Bristol underlines our belief in Bristol as one of the flagship enterprise cities of the UK, underpinned by exceptional knowledge capital, strong civic leadership and ongoing investment in infrastructure."
3. Atlantic Square, Glasgow
When it comes to workspace, Glasgow is one of the UK's hotspots. In 2018, Glasgow's office space market witnessed record growth, exceeding 1 million sq ft for the first time.
Set to open in 2020, Atlantic Square is a large mixed use development in Glasgow's International Financial Services District – and the only Grade A build scheme currently under construction in the city. The project covers 284,000 sq ft and will accommodate up to 1,200 people.
BAM Properties development director Mark Broderick said: "We're delighted to take our vision for Atlantic Square out to the occupier market and begin the search for the first tenant for 2 Atlantic Square.
"Given the strength of Glasgow's occupier market and the severe shortage of new build office space in the city, we expect there to be strong interest in this development from across the UK."
4. ID Manchester
TheUniversity of Manchester is searching for an investment partner for a new £1.5bn Innovation District, aptly called ID Manchester. Current development parameters point to 3.5 million sq ft of mixed use space – including workspace and three acres of public space.
If successful, the project will create a dynamic world-class community with collaboration and enterprise at its core, and had the potential to create upwards of 6,000 jobs.
Diana Hampson, director of estates and facilities of The University of Manchester said: "ID Manchester will build upon the proud history of bold ideas, discovery and invention established by the University here.
"It will attract the most forward-thinking, like-minded individuals and businesses with the chance to establish their UK HQ, start up or scale up their company, take on and benefit from disruptive technologies and ideas or simply come and enjoy this inspirational space."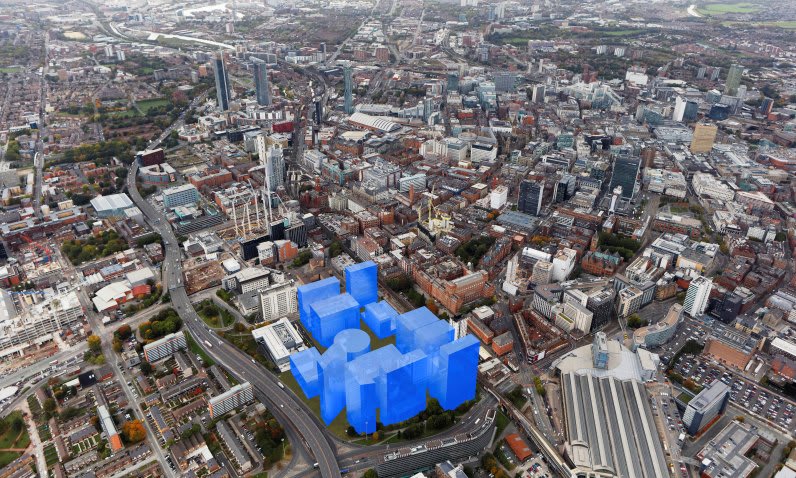 5. Boots Island, Nottingham
Congar Investment Company PLC plans to regenerate a 40-acre former Boots Island site in Nottingham into an ambitious mixed-use space made up of grade A workspace, a market, homes, a 5-star hotel, retail units, a linear park and community space and student accommodation.
The first phase of the office and residential development is due to be completed by 2020, and will coincide with the creation of hundreds of jobs. This is the largest regeneration scheme the city has seen in decades.
Christopher Ware of Conygar explained: "Nottingham is a vibrant and creative city where several exciting developments are taking place and our plans for the site are a key part of this regeneration. We believe this is a unique development which will help to elevate Nottingham's position in the Midlands and the UK."
Are you aware of any new mixed use developments worth shouting about? Tell us on Twitter @Allwork.Space.