Workplace Week 2019 showcased over 20 of New York City's most innovative workplaces.
The event explored how workplace leadership, culture, design and technology coalesce to deliver outstanding, unique experiences.
Some key trends identified among innovative organizations include the use of open stairwells, modern reception areas, improved meeting reservation systems, and offering a plethora of amenities.
---
More than 20 of New York City's most innovative organizations opened their doors at Workplace Week 2019 to show how business leaders can impact the employee experience within the work environment.
Organized by Advanced Workplace Associates, tours and presentations shared lessons learned in the process of creating inspiring workplaces that optimize workplace effectiveness and morale at an individual, team and community level.
Additional insights, research and case studies were presented at a series of fringe events held around the city exploring workplace management and how leadership, culture, design and technology coalesce to deliver an outstanding experience.
Host organizations included international law firms, media conglomerates, marketing agencies, professional services firms, technology companies and more. 
Some key trends and takeaways observed during the week-long series of events, which raised $18,000 for the I Have a Dream Foundation, included:
Employee tech support is visible, accessible and as cool as Apple's genius bar.

With technology a fundamental operating system for any knowledge worker, organizations are making it convenient and easy for onsite employees to get expert and immediate troubleshooting on their device. In some instances, tech support is housed in a colourfully branded work bar with helpful techies behind the counter, ready to lend support and expertise, and even a spare laptop if needed.

Open stairs boost human connection and spontaneous collisions. It is an expensive choice in terms of giving up prime real estate, but companies are increasingly opting to install a wide, open stairwell between two or more floors to increase opportunities for unplanned meetings that foster collaboration and cross-pollination.
In addition to encouraging more frequent movement, internal stairs also serve as stadium seating for town halls and break out space for individual work or small group meetings.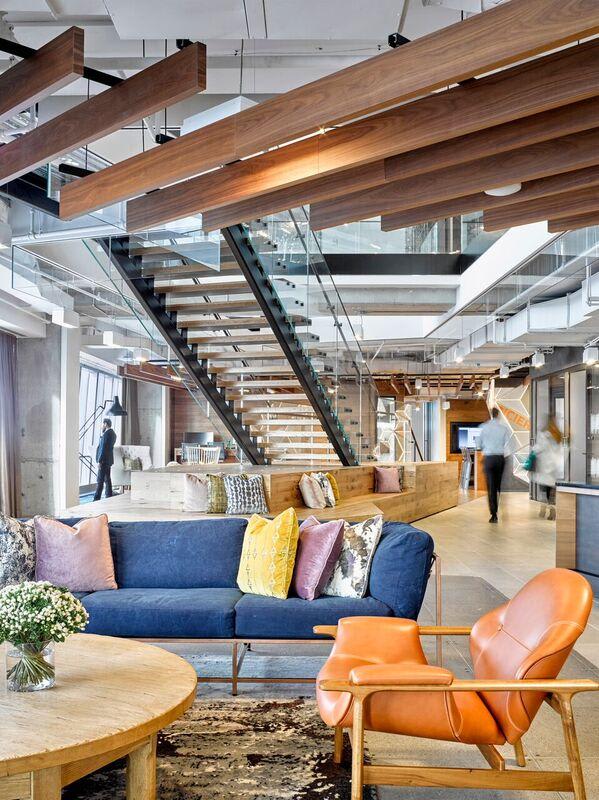 Large-scale monitors and placemaking communicate mission and branding. Lobby walls lined with large monitors not only provide entertainment and diversion for visitors while they wait, but also introduce company news, messaging and latest work.
Within the spaces, local geography or history or company heritage often inspires how firms express their brand and mission. At Meredith, large-scale quotes greet employees and visitors off the elevator on each floor, while historical photographs from the archives of magazines in its portfolio enliven the walls.Also observed: a rotating art program, rooms named after famous jazz songs, meeting spaces that pay homage to Central Park and other iconic New York City locations, wings of large floor plates identified by well-known New York City neighborhood names and Manhattan skylines etched onto glass doors.
Advertisement
New reception models have emerged.

Technology and coworking have influenced how companies greet guests. Some alternatives experienced on various tours:
An iPad mounted on a stand where visitors can check in without human assistance

A team of concierges who greet visitors and handle other tasks for employees (BCG)

A community manager who roams the café at the office entry (no lobby exists) and chats with employees and visitors to determine what they need (M Moser)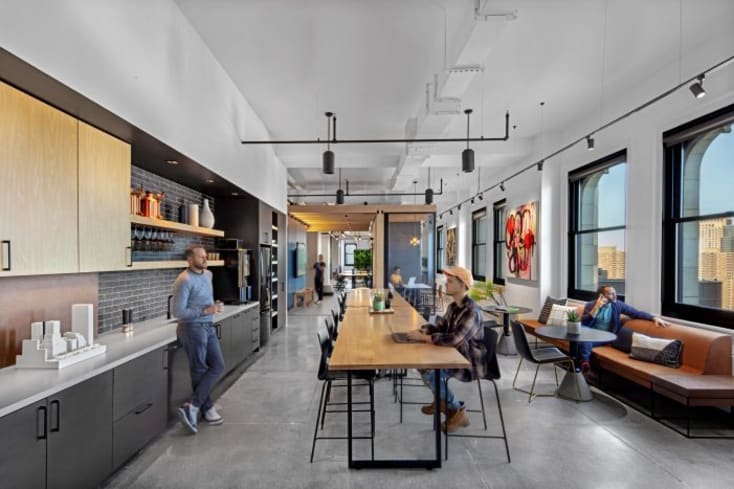 Hotelling and meeting room reservation systems are a work in progress. Not every organization has solved the booking system for hotelling workspace and reservable meeting rooms. Some organizations have developed their own app; others use enterprise software systems.
Willis Towers Watson, a global multinational risk management, insurance brokerage and advisory firm, eschewed reservations entirely. Instead, large monitors show available and occupied workstations.
A sensor system was built into desks and as soon as it registers usage, that workstation is shown as unavailable. After a designated period of non-use, the desk moves into the available inventory.
Workspaces should be plentiful and varied in size and furnishings.

As has been well-documented,

the two extremes of workplaces – all open or all closed – do not work

. The challenge is determining not only the right mix of open and closed meeting spaces, but also the size of the room and types of furnishings that will support employees in their tasks and meetings throughout the day.
As work modes shift, so do furniture choices. Corner offices are now as likely to be filled with a treadmill desk as a conference table, or increasingly, living room-style furnishings, with sofas, low tables, poufs.
Social spaces and amenity areas such as lounges and cafes that double as informal meeting and work areas are also factored into the mix of workspaces.
Many firms have designed outdoor spaces with pergolas, power, heavyweight furniture (winds can be an issue with rooftop spaces) and other features that allow them to function as work, meeting and event spaces throughout the day.
Meeting rooms need simple and reliable tools.

Companies are striving to simplify connectivity and display in meeting areas so users can walk in, connect with one-touch technology and begin discourse seamlessly. Anything less is unacceptable.

In addition to a range of monitor options, a mix of analogue tools is typically included as well, such as a wall of whiteboard and Post it notes. Shelving is available in rooms used for long-term projects.
Rooms designed to encourage innovation and creative brainstorming deliberately exclude technology and connections in favor of living-room style comfort.
Amenities are an expectation. Call it the Google effect. In a competitive environment and war on talent, companies generously provide onsite baristas, healthy snacks, lunch and a range of beverages for free or significant discounts, sometimes around the clock.
Besides drinks and snacks, companies showcased amenities ranging from game rooms with ping pong and foosball to screening rooms and a private speakeasy.Sometimes doubling as mother's rooms, wellness rooms are becoming more ubiquitous, furnished with soft seating, worktables, refrigerator, aromatherapy, and more. Convene's new workplace at 530 Fifth Avenue location devoted an entire floor to wellness.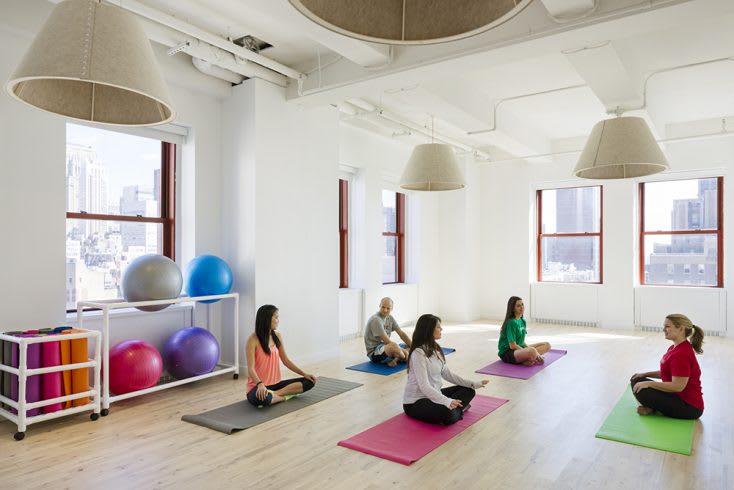 Activity spaces are designed for flexibility, hosting yoga, meditation or other classes as well as a pair of Peloton bikes found in at least two destinations. With price tags approaching $2,000, plus an additional subscription requirement, it's a way to bring a luxury level amenity to a broad range of users. 
Keeping it clean: Benching in. Trash cans, phones and storage out. With the clean lines of benching systems making their way into many open office situations, the overall visual is becoming more streamlined. Trash cans and supplies tend to be kept in a central area, which also encourages greater movement of employees.
Storage is minimal, and more often than not is not found within workstations. Instead, a locker – assigned or unassigned – is used.
One firm custom-designed task chairs with a built-in coat hanger on the back, eliminating the need for hanging coat racks. Many desks now include a hook to hang tote bags and backpacks.
Desktop phones are nowhere in sight. Among options: BYOD (bring your own device), Skype accessed via laptop, and wireless headsets.
Power rules. Access to power continues to be a challenge for many firms. While furniture with USB ports is seen more often, wireless charging has still not taken hold.
Seeking maximum mobility so employees can work completely untethered, M Moser sourced a portable power station that employees can take with them from location to location within the office. An IT staffer collects and recharges them each evening.
Install. Iterate. Repeat. Despite data driven planning and decision-making, workplace change is a continuous effort. In the process of designing for flexibility and agility, companies often make adjustments as further phases of the redesign take place.
For example, at Willis Towers Watson, one-person phone rooms were replaced with rooms that fit two or three people, different types of privacy panels were utilized, and bold randing expression was added. All on a single floor.
Coffee tables proved to be an impractical height when people worked from sofas, so the second iteration of small conference rooms featured slide-in tables at a more workable height.
When transitioning to an open plan, some firms started out with unassigned seating policy that evolved into assigned desks or neighborhoods over time.
Change management is integral to success. Most organizations undertake significant research before embarking on a workplace change. But no matter how many surveys submitted, focus groups and town halls conducted, or test fits completed, successful workplace transformation and long-term success is contingent on change management.
The most successful processes involve a multi-step plan that factors in an organization's unique culture, according to experts from the

Move Plan Group

, who conducted a workshop on the theme.