On May 31st, flexible workspace provider Knotel launched Geometry, a subscription-based furniture service.
Geometry will provide modular architectural objects that can be easily assembled and converted into different styles.
The pay-for-what-you-use model will allow Knotel members and non-members new ways of outfitting offices and making them more agile.
---
At Knotel, it's hard to find a staff member with a business card.
Founded in 2016, the company has been growing so fast that hiring is at a near frantic pace and many staff are so new they have barely finished the onboarding process. The latest introduction from the global flexible space provider may expedite that even further.

On May 31st Knotel launched Geometry by Knotel, a subscription-based furniture service designed to further shorten the already record speed that the firm can build out a client's workspace.
The service provides a selection of modular architectural objects that can be assembled with two simple tools in as little as three hours, versus the three days a typical system by a major contract furniture provider might take, according to Joseph Muscarella, Knotel senior director and head of design workshops.

By introducing a pay-for-what-you-use model, Knotel is following models established by other industry disruptors such as Uber, said Mousa Ackall, Knotel director of marketing, and streamlining the process to allow customers to move in as quickly as one hour.
Geometry blends modular architectural objects that are designed to be active and responsive to users' needs with easy conversion to alternate styles. Items include agile desks, phone booths, modular conference rooms and free-standing wall systems.
Initially available to Knotel existing customers, Geometry will be accessible to non-customers and owners by the end of the year.
"Knotel created new ways of outfitting offices and making them more agile," said Amol Sarva, CEO and co-founder of Knotel. "Now, Knotel is sharing its scale, speed and innovation by introducing Modular Architectural Objects for owners and enterprises to better design and fit the workplace.
"Also, by expanding this offering beyond just our customers, we hope to change the infrastructure of offices around the world by maximizing efficiency and reducing waste," added Sarva.
Program owner Mei Lin Ng explained that Geometry was developed to solve three problems: flexibility, tailoring, including brands and how people work; and infrastructure ("the easy button").
Initially conceived to solve the fast-growing company's own problem, the team quickly learned lack of highly agile furniture was an industry-wide problem that they wanted to solve.
"We wanted to reduce costs, extend the asset's life and control the supply chain," Ng said. "With that mission in mind: to transform how work works; make what was permanent impermanent, what was once inflexible and slow-moving flexible and fast, we made Geometry," she described.
"You don't have to file permits. You don't need specialized trades, architects and engineers to transform space. It can happen in a couple of hours," Ng added.
For example, a desk benching system originally specified for sitting desks can be converted to sit-to-stand desk in a matter of hours. Phone booths can be added over the weekend. Modular wall systems can be used to create conference rooms and freestanding partition with walls of various heights. Panels can be customized with magnetic whiteboard, cork, glass, felt or a custom surface.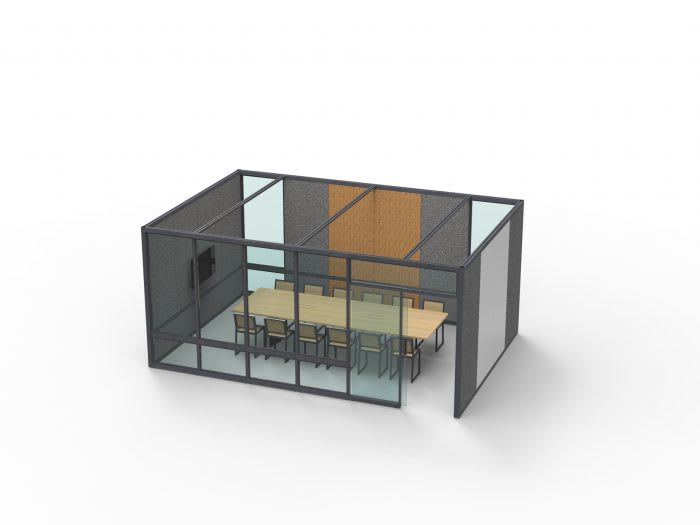 "We wanted to make something that would respond to change rather than be perfect 100% of the time," she said. Framework is 80% reusable, 20% customizable. The customizable portion is ultimately refurbishable or replaceable within 20% of unit costs.
Citing that 9.7 tons of furniture is disposed of in landfills annually, she added "given our scale, knowing how much square footage we're looking to take on in the next few years, we didn't want to be a contributor to that waste problem."
While other modular systems exist, the team found them to be very expensive and required full upfront payment versus Knotel's monthly rental fee.