Coworking communities aren't just for people, as many spaces are now opening their doors to four-legged members.
Having a furry friend around can significantly boost morale, increase productivity and help members bond.
At Huckletree in London, Allwork.Space met two coworking canines: Raya and Mr Goose.
---
Dogs are a human's best friend.
As well as being effortlessly adorable and stress-busting, dogs are intelligent creatures; they can read facial expressions and even display empathy (especially when they see their human in a pickle).
Perhaps their fun-loving, sociable nature is what makes them such great coworking companions too.
It's no surprise that so many coworking operators are adopting dog policies nowadays. Having a furry friend around can significantly boost morale, increase productivity and act as a powerful bonding tool. Have you seen the way people flock towards them as soon as they enter a room?
At the very least they provide people with the perfect excuse to get outside and exercise the old limbs after a long stint of work. And the dogs love it.
But what do we mere mortals really know about it? To get the full scoop (pardon the pun) on what it's like to be a dog in a workspace, we contacted two high profile coworking canines at Huckletree to get their perspectives on the matter.
Introducing Raya and Mr Goose… 
Advertisement
RAYA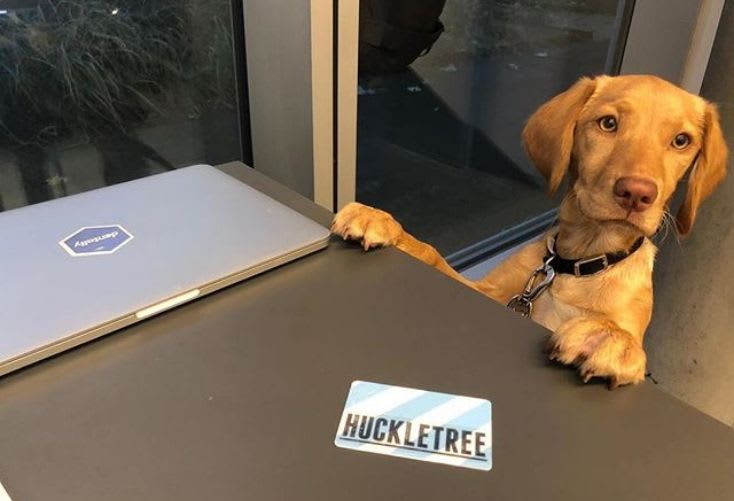 "I joined Huckletree back when I was a puppy, and as I've grown up here, I've made it my mission to figure out who at Huckletree gives the best pats, carries sneaky snacks or has a great knee for napping on. (It's Rea at Butternut Box, for the record). 
If I'm not snoozing under 'my' desk, I'm off playing with Pugwash and Willow, my favourite four-legged Huckletree members. I love heading over for playdates with them and the pooch-loving team at Butternut Box – I've even starred in some of their photoshoots! 
Yes, you may recognise me as the most convincing Golden Cockador Santa Paws you've ever seen. 
My favourite thing about coworking at Huckletree? Hmmm. Probably jumping on Red, Huckletree's Ops Manager, for cuddles as he tries to do his morning walkaround and daily investigations of White City Place's gardens.
(Or throwing myself in the pond in the nearby park). 
I take squirrel watch VERY seriously."
Butternut Box, a member at Huckletree and the UK's first home-cooked dog food subscription service, hosts Hug-A-Rescue events for dog-loving members. They have partnered with charity The Mayhew to bring in adoption dogs for hugs.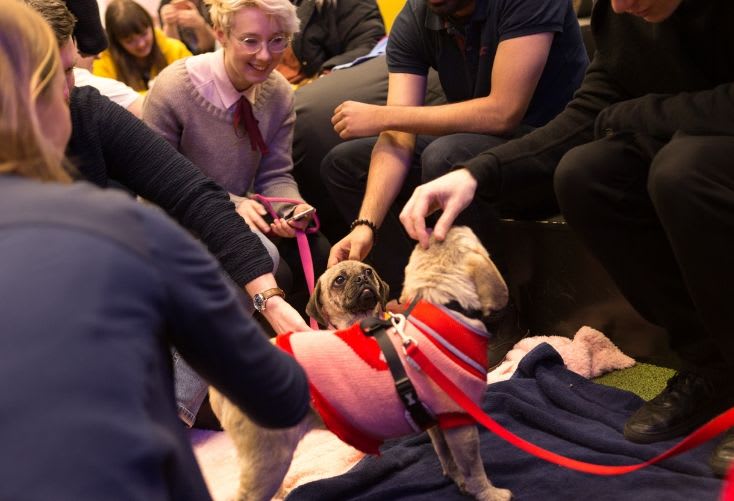 Caption: Butternut Box also hosts drop-in grooming and vet checkup sessions.
MR GOOSE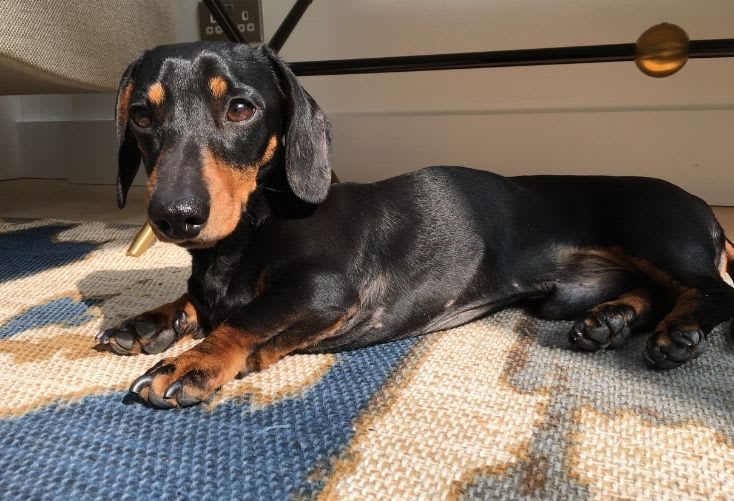 "I love putting in a hard day's work. My favourite bit is my morning nap. Once I wake from this, a snack is always on my mind. At this point, I like to stick my nose out of the office and get the general lay of the land. If there's somebody nearby, I might head over and see if there is a tummy scratch going spare. 
I absolutely love being by the water fountain – not only am I sure to get 10 people cuddling me, but there is always the chance I might find some food under the kitchen island! 
Generally, I love the 9 to 5 at Huckletree West with all the folks plying me with attention. 
Do I have a favourite member? I'm a lover, not a hater so no clear favourites but if you've got a snack, you're generally top of the list."
Huckletree members who wish to bring in dogs just need to fill out an authorisation form to get started. Any pups should be kept on a lead or in their owners' private studio whilst on the premises – and the owner agrees to clean up any mess the dog makes.
Are you the proud owner of a coworking pooch? Send your pictures to [email protected] and we'll share them on Instagram Stories.