DC-based yoga studio Flow Yoga Center recently expanded its 'business' concept and added coworking space to one of its studios. Originally, it was created simply as an internal space for their management staff. Co-founders Debra Perlson-Mishalove and Catherine Zack were completely unaware of the prevalence of coworking — and were pleasantly surprised at the response they saw.
"We would work for a while and then one of us would randomly start doing some yoga or meditation. It was very organic." Yet, the idea to open the studio to the public as a workspace  didn't occur to them until a friend suggested it. At first, it seemed like a wild idea, the whole purpose of Flow was to encourage people to disconnect, take a break, and take some time for themselves. But still, Debra and Catherine started to see how people wanted to be and stay in their studio, before and after their daily yoga classes.

"We don't have official offices in our space, we have a lot of open space lounges, but it feels good to be here. There's sunlight, flowers, places to stretch; people would tell us they loved hanging out here. People would ask for our Wi-Fi password and say things like: hey, can I hang out here for a while?"
"Catherine and I started to consider the idea our friend suggested," Debra says. Before opening the coworking space, Flow Yoga had two studios in DC, so the concept of adding workspace started to be a reasonable one. "We did a lot of research; if we did it, we wanted to do it right. We dug into how can people work more efficiently and creatively, how can they work in a way that they're able to take appropriate breaks to let their bodies and minds rejuvenate?"
Wellness, balance, mindfulness, and creativity were at the core and center of the workspace Debra and Catherine wanted to create. After some research, they had it; they knew what they wanted to offer and how they wanted to offer it.
"Our main business is still yoga, but we did change parts of the studio. We added more electrical outlets, we upgraded our internet service, and we invested in lower desks." And this is how workFlow was born.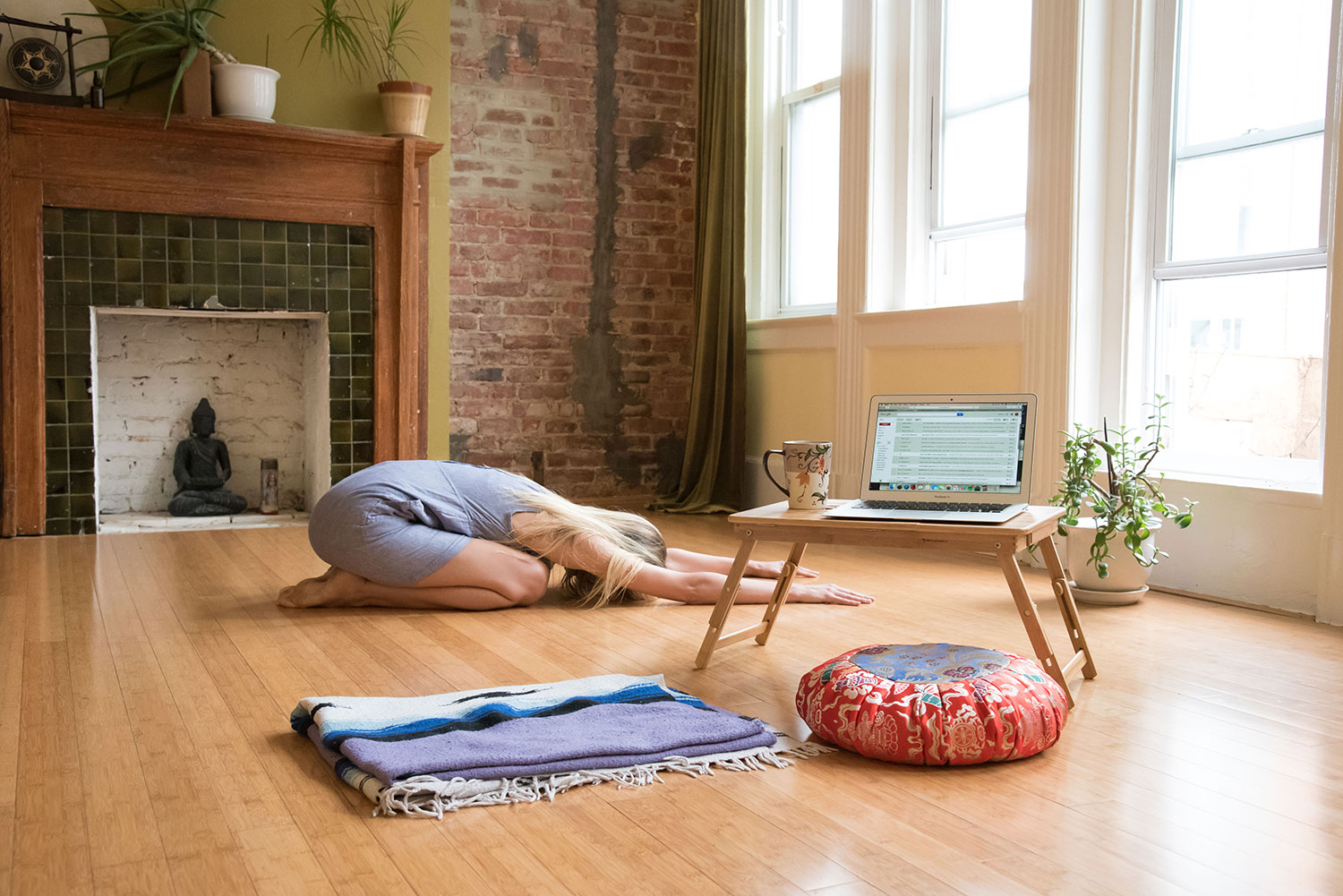 The space is open from 8:30am to 4:00pm and it has different areas where members can set up and work. There are quiet areas, lounge areas, and break areas–where yoga and meditation breaks take place at designated times (these are optional for all members). "The atmosphere is amazing," says Debra. "We incorporated colors, smells, temperature, light. We made it into a healthy place to work; we have some awesome coffee, unique teas, healthy snacks, an aromatherapy bar, and everything that you need to relax, uplift, and balance. "
The response has been amazing, but the most rewarding part of workFlow has been to see how many members of the coworking space are actually showing up for meditation and yoga classes. "The classes are optional, and so are the breaks, but it's been amazing to see how most people are coming in and taking a class because they want to. It's so fulfilling and rewarding to see how doing this fuels them."
And this has helped Debra and Catherine to build their own homegrown atmosphere. "workFlow is becoming its own little community."
"We're getting the nicest of feedback, from members and non-members. We're getting calls from companies wanting to send their employees to work at Flow as a treat and to encourage creativity." After all, it's hard to be creative in a space that doesn't inspire creativity.
With workFlow, Debra and Catherine want to inspire mindfulness and be an example of what it means in the workforce and how it can help increase happiness, satisfaction, and productivity. They are wellness-focused in everything they do and offer.
In their own words, "How you work matters, and we want to help create your best work days."
*Feature image by Addy Burr, Addy Burr Photography.