LinkedIn has over 260 million monthly users and is 227% more effective than Facebook as a lead generation tool.
Coworking operators should consider using LinkedIn to drive more traffic to their websites and position themselves as an industry leader.
The first step to to ace LinkedIn is to make sure your personal profile is updated and that you are engaging with other people in the platform.
---
As a coworking operator, it's relatively easy to ace visual social media platforms like Instagram – especially if your space looks as good as this one. LinkedIn, on the other hand, requires a different approach. 
The social networking site has over 260 million monthly users and is 227% more effective as a lead generation tool than Facebook or Twitter. What's more, 46% of social media traffic to company websites comes from LinkedIn, so it's definitely worth putting the effort in and getting it right. 

As a B2B platform, LinkedIn is very well suited to coworking operators." Freelancers, entrepreneurs and CEOs browse it regularly. It's also the perfect platform on which to pitch yourself as an industry thought-leader – and your company as a great place to work both in and for (LinkedIn is also a very effective recruitment tool). 
But where do you start? 
The following tips will help you to scale your following and drive up engagement on LinkedIn, even if you don't have the privilege of an in-house marketing team. 
1. Don't neglect your personal account
Put as much effort into promoting your own account as you do your company's one." If you've been neglecting it for a while, take some time to audit it by asking yourself the following:
Is your "job experience" up-to-date? Don't forget to add your coworking company to this if you haven't already – and keep descriptions brief. 

Is your "about" section concise and does it accurately reflect what you do?

Is it time to update your photo? Perhaps to one of you in your space?

Have you got any recommendations? If not, ask some of your closest business allies to write one for you.

Do your employees have LinkedIn and are their profiles up-to-date too?

Have you connected with top industry influencers?
To get the best out of LinkedIn, you need to engage with people's content and make relevant connections. Start by searching for people within your industry via the "My Network" tab. In following people you have things in common with, your feed will naturally become populated with content you find interesting and feel inclined to like, share and comment on. 
Advertisement
Looking for talent? Use LinkedIn to post a job opportunity. A new hire is made every 10 seconds on LinkedIn, and its Jobs tool comes with targeted promotion, making sure the ad is seen by the most relevant people. The Candidate Management dashboard enables you to track candidates in one place. 
Did you know you that LinkedIn is also a publishing platform? Writing articles for LinkedIn can help position you as an industry thought leader and sharing your expertise with others through writing can be incredibly rewarding. If you're not a confident writer or you don't have time, there's help out there. 
You can hire a content writer to ghost write articles on your behalf (you'll just need to provide them with ideas in the form of bullet points). Alternatively, get a friend or colleague to proof-read your work as a favour before publishing it.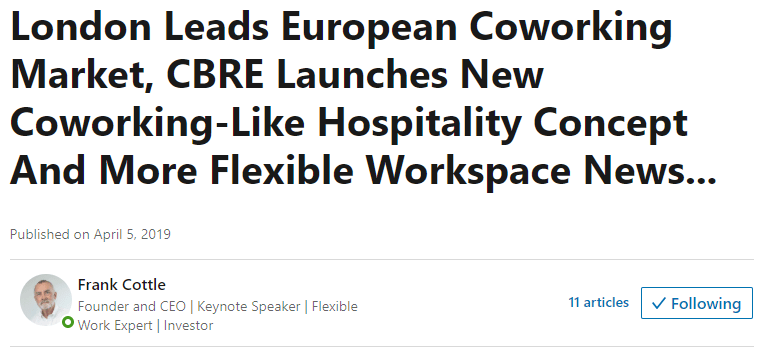 2. Build a company page
Create a LinkedIn page for your company and use it so share both your own content and related articles, images and videos created by others. You'll only start to build a following if you post regularly, so put a strategy in place from the beginning. 
Post regularly:

Aim to post as much as you can – at least once a day if possible.

Share content:

There's a lot of great content out there so don't let it go to waste.

Create content:

Share your company's own content – blog posts, Q&As, photos, videos, press releases…

Share wisely:

Don't post any old thing. Team photos, client testimonials, informative articles and inspiring quotations work particularly well.

Recycle:

Don't be afraid to share the same content multiple times – in fact, LinkedIn's algorithm encourages it. Just change the introductory comment. 

Remember to tag:

If you reference an individual or company in a post don't forget to tag them. 

Get staff involved:

Prompt colleague to engage with any content published on the company page to widen its reach.
https://www.linkedin.com/feed/update/urn:li:activity:6549393518090088448/
The Wing uses a single post to shout about it's growth, promote its new office and attract the attention of potential new employees.
https://www.linkedin.com/feed/update/urn:li:activity:6552486160847912960/
The Office Group shares a video in which one of Summit House's designers talks about how they came up with the concept for the space.
3. Automate posts
There are plenty of LinkedIn automation tools out there that you can use to schedule posts in one go (for example, on a Monday morning for the week ahead). These are particularly useful if you're super busy and are likely to forget to post content. Some tools are free for one account too. 
A few social media automation tools on the market today like Hootsuite or SproutSocial, which come with their own content recommendation systems and suggested timings to optimise engagement. But one of the most useful features has to be the inbuilt analytics, enabling you to track clicks, likes, shares and comments to determine what content is working best. 
To see what we're up to on LinkedIn, follow @Allwork.Space.