Ideas about business and careers are changing rapidly and will drastically impact the market and employees.
Automation, gig work, digitization, and the pandemic are sparking a debate about nearly every aspect of work and the economy.
These five books about work — and the future of it — explore the conversation and debate surrounding this rapidly evolving but fundamental activity. 
---
Most people will spend a significant amount of their waking life working — especially Americans. 
According to the Bureau of Labor Statistics, Americans who are employed full-time work an average of 8.29 hours per day. For men in this category, it's even higher — 8.71 hours per day. By comparison, adults in the Netherlands and Germany work only 31-35 hours per week.
A profound shift is taking place in how people think about work. The pandemic seemed to give the world a necessary pause that allowed for deep reflection and debate about nearly every aspect of work and how it's done. COVID-19, obviously, made remote work a necessity for many employees — just as it made virtual learning a necessity for students.  
Has the social contract between the employer and worker been broken forever?
"When you talk to workers, they don't want to sign up for a 9-5 job," said Hayden Brown, CEO of Upwork, in a recent interview in the New York Times. "The virtual office … is going to continue to be ever-present for basically every business that's doing some kind of knowledge work that can be done remotely. And it can be such a level playing field."
As the collective debate about the future of work intensifies, it pays to stay informed and ahead of trends that may fundamentally impact how we work.
These five books about work — and the future of it — explore the conversation and debate surrounding this rapidly evolving but fundamental activity. 
This article may contain affiliate links. When you purchase or sign up through links on our site we may earn an affiliate commission.
---
Five Must-Read Books to Wire Your Brain for the Future of Work 
By Sarah Kessler
Freelancing used to denote a part-time or temporary way to earn money, but now it has become a central aspect of how many people earn a living. Kessler explores how the "gig economy' emerged from Silicon Valley through the stories of its workers. While there are many freelancers who remain independent purposefully and enjoy the freedom that accompanies it, there is always room for exploitation. Like the adjunct professors that make up more than half of higher education's labor pool and work semester to semester without benefits, competitive wages, or job security, many of the gigged workers in this book live a precarious life dominated by the whims of Big Tech. 
Gigged shows the dark side of the freelance economy, but there are many independent and contract workers with skills that allow them to work when and where they want — and make a nice living at the same time. Hopefully, a balance can be achieved in the future that limits exploitation while making prosperity available to more and more workers.
---
By Eliot Brown and Maureen Farrell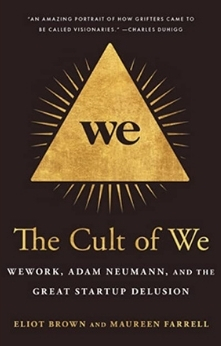 This inside story of the infamous coworking startup, written by Wall Street Journal correspondents, provides a fast-moving narrative of WeWork's audacious rise and rapid unraveling following its disastrous public offering. The Cult of We hints that it was Neumann's hubris — along with his enablers and the financial system that allowed it — that brought the company down. 
According to Amazon, Neumann and team's vision included an eventual  WeWork valuation of "$10 trillion, more than any other company in the world. It wasn't just an office space provider. It was a tech company—an AI startup, even. Its WeGrow schools and WeLive residences would revolutionize education and housing. One day, mused founder Adam Neumann, a Middle East peace accord would be signed in a WeWork. The company might help colonize Mars. And Neumann would become the world's first trillionaire."
---
By Jason Fried and David Hansson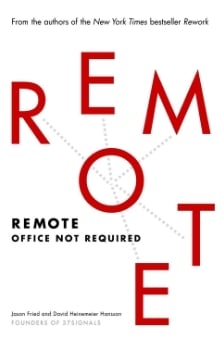 An eloquent argument for a remote-first workplace and a classic guide to working from home, Basecamp co-founders Jason Fried and David Hansson provide insights into the benefits (and drawbacks) of remote work and virtual teams in this book. 
They explain how technology is fundamentally changing how we work, and the decline of the work "under one roof" model. The ability to rapidly create virtual workspaces creates a new paradigm where it makes more sense to "move work to the workers, rather than workers to the workplace." The authors make it clear that for workers to succeed they must find the best remote jobs — not just the one that is nearby or convenient. This idea shifts some responsibility to the worker to cultivate transferable skills that will give them an advantage in the new virtual marketplace — and leave the office behind forever. 
---
By David Burkus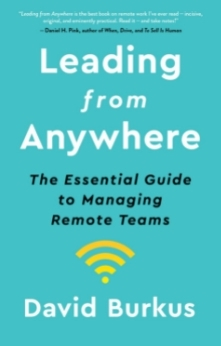 Author Daniel H. Pink claims that "Leading from Anywhere is the best book on remote work" that he has ever read, citing its originality and practicality. Pink's book To Sell is Human offers a wonderfully readable history of sales in American business and puts a human face on it as a fundamental skill that everyone must learn in order to survive in modern life. 
Burkus does an equally great job in exploring the history of remote/ virtual employment and the challenges managers face in leading these non-traditional teams. 
Leaders need to learn to lead from anywhere because Burkus believes remote work is the future of work. Filled with examples, meticulous research, and insight, this is a must-read for not only managers of remote teams — but potential managers of remote teams as well as employees already working virtually or on the hunt for a remote-first company to join.
---
By Rachel Woldoff and Robert Litchfield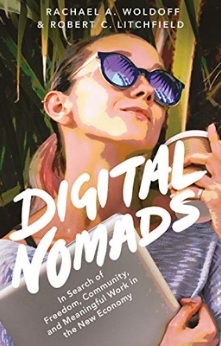 This book's title pretty much says it all. 
Rachel Woldoff and Robert Litchfield champion the globetrotting digital nomad set, those highly skilled "knowledge workers" that you see more and more in the media these days. You know the "worker" she is referring to in Digital Nomads: In Search of Freedom, Community, and Meaningful Work in the New Economy. You've seen pictures of these folks in magazines and online: they are usually sitting on a beach in someplace like Croatia or Koh Samui or Tulum, lush palm trees swaying in the breeze, an unbelievably blue ocean in the foreground. They work a few hours a day doing highly skilled and important work that they enjoy and appear to be getting rich at the same time. 
While this is a highly generalized depiction,  the authors give us real examples of digital nomads in several spots around the globe. More importantly, they explore how these modern workers navigate and negotiate the new terrain, leaving their conventional lives behind them, and seek not only work but community, freedom and, you guessed it, meaning in their work. 
---