During a recent online training session, Cat Johnson focused on how a workflow can help coworking operators stay on track with their content marketing.
A workflow breaks down tasks into chunks, making it easier to start and finish content; from idea generation to mind mapping, publishing, and promoting.

Effective content will combine SEO elements, a call to action, and valuable insights to your target audience.
---
Content is your marketing superpower. It is effective, affordable and completely customizable. – Cat Johnson, Content Marketing Expert.
We know content marketing is valuable. Your content sits at the heart of every piece of marketing you ever do — from blogs and newsletters to PPC ads and website landing pages.
But how many times have you sat in front of your laptop and forced yourself to write something, because you know you should?
Was that content as good as it could be?
The answer is probably no.
That's because coworking operators are busy people. You're accountable for so many different elements of your business that often, regular and consistent content marketing falls by the wayside.
"I want to help you avoid that feeling of sitting down and thinking, I need to write or blog about something," says Cat Johnson, a content marketing expert for the coworking sector. "We want to avoid that, as it's stressful and produces sloppy, rushed content."
During a recent online training session, Cat focused on how a workflow can help coworking operators stay on track with their content marketing.
What is a Workflow?
A workflow breaks your tasks down into manageable chunks.
Let's say you need to write a blog post of 1,000 words. That seems like a huge block of content. But if you follow a process, starting with idea generation and mind mapping, and creating a simple framework for your piece of content, you'll find the process much easier.
Before we look at the 7 steps to writing great content, keep in mind that you should approach your content marketing strategically. Cat recommends getting into a service mindset — rather than pushing your concept on people, "invite them in" and demonstrate how your space adds value to their working day. Remember your competition is not necessarily your nearest coworking space — it's also the kitchen table at home.
Think about:
What do you offer? It's not just desks and WiFi.

Who is your target customer and how do you help them?

Why is coworking better than working from home or a coffee shop?

Where does your target market hang out online? What's the best way to reach them?
Workflow: 7 Steps to Creating Quality Content
"Having a workflow allows you to create higher quality content. It's not 'busywork' — it's a simple method for making your work more predictable, and keeps you on track with your content creation. Once you have it dialed in, it will help your marketing go more smoothly."
1. Idea capture
Keep a running list of ideas and topics that you can write about. It's easy to forget good ideas when you're busy running around and doing your job.
Think about important days in the coworking industry and in your space — such as the anniversary of your launch day and National Coworking Day — and add them to a content calendar. Also think about what's happening in your local area and the type of businesses that are based there.
Try to think about these dates and topics a few months ahead of time so you have time to formulate a plan.
---
Suggested Reading: Keep Your Marketing on Track with a Simple Yet Powerful Content Calendar
---
Once you've come up with a number of ideas, capture them all in one easy-to-reach place, such as Trello, Google Keep, or on a shared spreadsheet.
Advertisement
2. Mind map your ideas
"Don't censor yourself," Cat advises.
There are no silly ideas. Throw it all down on paper and see what sticks.
Once you have filtered down some of your ideas, start formulating headlines. These are so important — both for SEO but also for catching your readers' attention. It's the place where you make a promise about what you will include in the article.
Cat offered some examples of content ideas she recently came up with, for coworking in Santa Cruz:
7 Free Resources for Tech Startups in Santa Cruz

Top 10 Productivity Tools for Santa Cruz Freelancers

A Remote Worker's Guide to Coworking in Santa Cruz

What is Coworking, Anyway? An Introduction for Santa Cruz Freelancers

A Digital Creative's Guide to Coworking in Santa Cruz
These headlines target specific markets and locations, which appeal to certain groups of people — freelancers, tech startups, and digital creatives. The promise is helpful advice, which will attract people to your content and also help boost your website SEO.
3. Outline
Rather than writing straight into your content management system, start with a Word document or Google Docs. They have built-in tools like spelling and grammar checks along with dictionary features, which help make the writing process easier.
Start by creating an outline of your piece of content. This is the 'skeleton'. Don't try to fill it all in — as Cat explains, "it's like building a house. Put the scaffolding in place then go back and add the details later."
The scaffolding includes your introduction, key headers, any bullet point lists, and a conclusion with a call to action.
4. Draft your content
The skeleton is there, now it's time to fill it in.
Take one section at a time. Sometimes, it helps to start with the main body of the article and then 'top and tail' the content with an introduction and call to action afterwards.
Draft your content but don't worry about perfecting each paragraph, you can do that later.
"Just write like a human," says Cat. "We don't want 'academic speak'. You want to sound human, and relatable, so that people can see themselves in your space."
5. Media, links and formatting
This doesn't need a lot of brainpower. This is the part where you drop your content into your CMS, such as WordPress, and add images, videos, graphics, and formatting.
Remember to add links to any sources you're referenced. You can also link to your own internal website pages too.
Content tip: Use image names and alt tags to boost SEO, along with a description and a caption.
"Your formatting should be spacious, scannable, easy to read and visually engaging," says Cat. "Have you ever opened a post and it's just a jumble of words? It's not visually pleasant.
"Use lists – we still love a list! – and vary your text with italics, bold, pull quotes, and H2 tags."
6. Proofread and polish
Typos happen to all of us, but you must get them out of your content before you hit publish.
"Typos speak volumes about your organisation. A typo is a mistake, and if your content has a number of them, it reflects badly on your organisation. It makes it look sloppy."
Be careful when proofreading your own work. We read what we expect to see, and it's easy to miss mistakes. Put the post away and look at it a few hours later with fresh eyes. Read slowly. Even better, ask someone else to look at it too.
7. Hit publish
This is when you send your content out into the world. Once you've done that, you need to promote it.
"We have infinite channels these days. Social media, newsletters, they all require something different. Try not to crop dust everything by blasting the same message at the same time."
Stagger the times you share your content across social media and remember to re-publish it numerous times over the next few weeks, and even months, if it's not time sensitive.
"Treasure your email list. Sharing unique, original content is a great way to engage your subscribers. If you mention someone or a company in your post, email them and ask them to share it. They won't know it's there unless you tell them."
Why Do All of This?
As Cat explains, content marketing is your superpower. But sloppy, half-baked content is a waste of time.
A workflow helps you think strategically and keeps you on-schedule. It programs you to think ahead and make the most of the important things happening in and around your space.
"You're busy, but creating content is important — now more than ever as there are so many spaces," added Cat. "We're just at the start of our industry and it's growing so fast.
"Get started now and develop a reputation for quality content that serves your members and your community. Great content lasts a long time."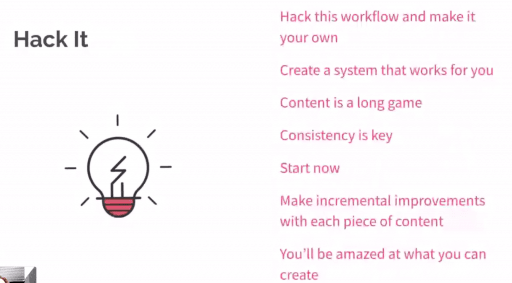 One more thing: Evergreen posts has a life that stays relevant for months, even years. It's super valuable because you can share and re-share it on social numerous times. Evergreen posts that perform well produce lots of SEO juice. Google recognises good content and bumps it higher.
Next training: Creating a Content Calendar. Back by popular demand! July 24th.