Ann-Marie Aguilar, Senior Vice President of the International WELL Building Institute, spoke at this year's Futurebuild event.
WELL equips organisations with the tools they need to put health at the centre of their decision-making.
Aguilar discussed how the spaces around us can make everyone, everywhere, healthier, happier, and more productive.
---
As part of this year's Futurebuild event, Ann-Marie Aguilar, Senior Vice President of the International WELL Building Institute, took to the stage to talk about how the spaces around us can make everyone, everywhere, healthier, happier, and more productive. 
The International WELL Building Institute (IWBI) provides single asset and portfolio-wide certification. 33,681 projects covering over 3.15 billion square feet across 109 countries are using WELL, making it the leading tool for advancing health and wellbeing in buildings.
---
---
Demand for WELL rose dramatically in 2020 as a result of the pandemic. The way organisations want to leverage WELL is also evolving; new clients want to understand how they can reopen confidently while addressing the health and safety of occupants. 
"What we're seeing is that WELL can be a tool for organisations to really look at specific subsections of our features that address stress and burnout, diversity, equity and inclusion, talent and getting back to business with confidence," said Aguilar.
"Companies like Uber, Goldman Sachs, JLL and Lendlease have all leveraged and communicated their WELL strategies inside their ESG reporting."
"We're really starting to see a fundamental shift in the way that corporates are discussing not only their sustainability commitments, but helping to identify the health and wellness commitments they've delivered for their staff in the buildings they occupy."
WELL applies the science of how visible and social environments can impact human health, wellbeing and performance, explained Aguilar at Futurebuild. It's about equipping organisations with the tools they need to put health at the centre of their decision-making. 
"Through our 10 concepts we can outline business and organisational developments that you can build into your design."
Recently, WELL has had the opportunity to add to and develop parts of its framework. Reopening safely with confidence, for example, is a sub-selection of features that address the health and safety aspects of reopening buildings. 
Employee stress and burnout, and employee engagement and retention have also come to the fore of the WELL Standard. 
"The conversation is changing. We have previously only worked with the Director of Sustainability within a company to try and help them understand the alignment between their sustainability goals and their health and wellbeing ones."
But now, WELL is starting to see active dialogue amongst other players at the corporate level, such as the chief diversity officer, chief marketing officer and the board of directors. 
WELL has also developed a new Health Equity Rating. 
"Over the past year, IWBI have pulled together a WELL Equity Rating round table; we used 44 co-chairs and 158 advisors to really help look through the feature selections that we have and help determine how these features can address equity, inclusion and diversity.
"This is an opportunity to help define the equity, diversity and inclusion campaigns that most of our companies are working with today, and help fold that into the wellness commitments that a company might have."
"We're all familiar with the triple bottom line: how sustainable investing can help with long-term value. We also understand that part of this conversation is really people, planet and profit. But there's an ambiguity today around that social element of ESG."
"It's difficult to measure and provide a metric to. We are trying to help our customers develop that social metric. 90% of a building's cost is captured in the salary and benefits of the staff inside those buildings, so it's really critical that we get this right."
The WELL Equity Rating will include policies, features and design interventions that encompass five bases: 
community engagement; 

universal access and understanding the social determinants of health; 

universal and inclusive design;

DEI policies and protocols; and

connectedness and empathy.
---
Diversity asks:

"Who is in the room?"

Equity responds:

"Who is trying to get into the room but can't? Whose presence in the room is under constant threat of erasure?"

Inclusion asks:

"Have everyone's ideas been heard?"

Justice responds:

"Whose ideas won't be taken seriously because they aren't in the majority?"
Credit:

Adapted from Dr. D-L Stewart.
---
During the event, Anthony Winter-Brown, the Director of Visitor Experience at the Royal Albert Hall, also took to the keynote stage to share his journey with the IWBI.
"We started our WELL journey in February 2021. At that point we were still closed due to the pandemic. It was actually a really good opportunity to start the journey with WELL and enabled us to reopen with confidence with the certification," he explained.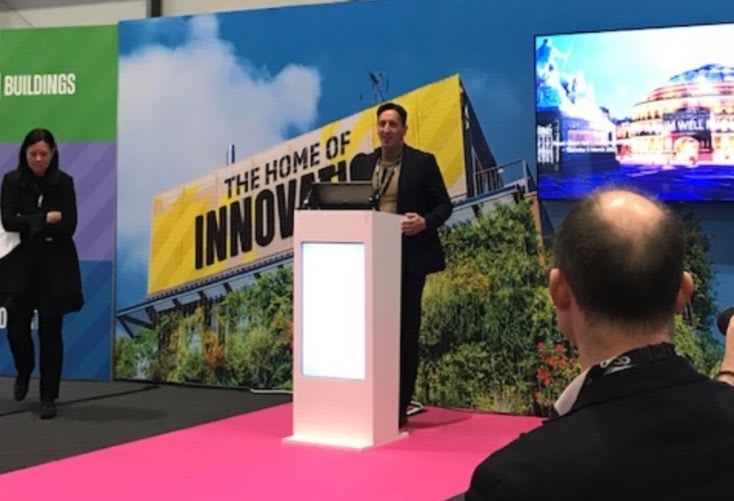 The Royal Albert Hall is a Grade I listed concert hall in South Kensington, London. Its WELL certification coincides with its 150-year anniversary. The venue wanted to reopen following the lockdown with better ventilation and hygiene protocols in place.
"Going into the WELL journey, we were a bit nervous because of all the conditions that we have on us as a Grade I listed building, but thankfully none of those fears came to fruition. 
"Once we understood what we needed to achieve in the criteria we got into the evidence – and it's a lot, but that's good and shows it's a very thorough process. WELL provide templates too, which was also useful for us as a 150-year old building."
Following the evidence review period, the venue received feedback that it had achieved a lot of the criteria, but that some things "missed the mark". Fortunately, organisations that want to achieve WELL certification have the opportunity to add to their evidence.  
"It was a really supportive process and your coach will give you some great advice. Allow some good time to achieve it because we all have things going on, pandemic or not."