A growing number of organisations around the world are setting net zero carbon targets.
Entities need to be consistent in what and how they measure first before setting their net zero targets. 
SmartWaste brings together everything a construction or design company needs to measure its Scope 1, 2 and 3 emissions, making the reporting process much more efficient.
---
Futurebuild is helping to pioneer the drive to net zero in the built environment, in line with the industry and the UK Government's sustainability goals.  
At this year's event, Stuart Blofeld took to the keynote stage to explore some of the challenges companies face when it comes to identifying, tracking and mitigating their carbon emissions – especially those that fall into the Scope 3 category.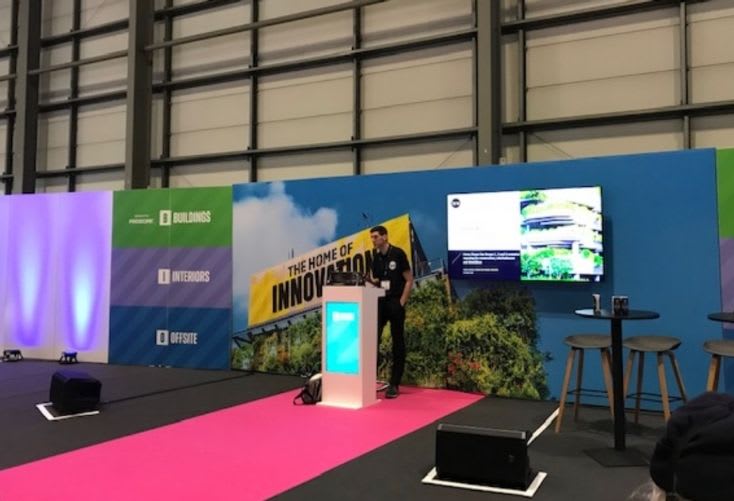 A growing number of organisations around the world are setting net zero carbon targets. But without the right knowledge and tools, it isn't easy. 

"There's a lot to measure when it comes to carbon within the built environment," admits Blofeld at the beginning of the keynote. 
The first step, he says, is to identify your company's carbon emitters, and whether they fall into Scope 1, Scope 2 or Scope 3 (or across multiple scopes). 
In the context of a construction project, Scope 1 emissions relate to the direct emissions that come from combustible fuels and company vehicles, says Blofeld. 
Scope 2 largely relates to electrical consumption. Lots of UK firms within the built environment have been measuring their Scope 1 and 2 emissions in some way for a number of years now, in line with regulatory frameworks. 
Now, the attention is on Scope 3. 
"It's where all the interest is at the moment, with clients, major contractors and smaller ones driving the desire to measure Scope 3 emissions. If companies are talking about going net zero, they really need to consider their Scope 3 emissions as well," according to Blofeld. 
According to the Carbon Trust, "Scope 3 includes all other indirect emissions that occur in a company's value chain, such as waste disposal and purchased goods and services."
"Scope 3 has the largest impact of any construction project," adds Blofeld, "We're talking about the whole supply chain here: embodied carbon in materials, transport, and carbon from water and waste treatment as well. All the products and materials that are going into the building are Scope 3 emissions."
With so much to account for, measuring Scope 3 emissions can seem like an insurmountable task. But, as Blofeld says, "there is help available."
What are the Scope 3 reporting challenges?
The first thing companies need to decide is what sources they want to report on, and then what system they're going to use to start measuring carbon, says Blofeld. 
"Are we going to create our own in-house system, are we just going to use spreadsheets, like many companies do, or are we going to go with an external tool like SmartWaste to help monitor and measure carbon emissions?"
Data sources can also pose a problem – because there are so many of them. 
"There's not just one database that everyone uses; there are many different databases out there for measuring carbon," explains Blofeld, "For energy and transport, we get the standard conversion factors from DEFRA. But when it comes to materials, there are many databases and some are better or larger than others. Then you've got your supply chain."
Many contractors at the moment are measuring direct emissions, they're not measuring the emissions of their supply chain, and many construction projects involve a huge array of subcontractors delivering individual work packages.
To accurately measure Scope 3, contractors – and other businesses in the built environment  industry – need to obtain their supply chain's carbon emissions data too. 
But on the ground in a construction project, it can actually be quite hard to get that information.
What is SmartWaste and how can it help?
SmartWaste brings together everything a construction or design company needs to measure its Scope 1, 2 and 3 emissions, making the reporting process much more efficient.
It measures a whole raft of environmental impacts like waste, energy, water, materials, transport, biodiversity and also social value, which is a new module. 
Contractors are using SmartWaste to monitor their site-based impacts. Companies can use the software to create their own reports, and choose from over 400 separate KPIs. 
A lot of people maybe don't realise that many of the energy types stretch across Scope 1, 2 and 3. These factors are embedded into the SmartWaste tool to help with your carbon reporting and are updated yearly. 
"There's roughly 100 materials factors in SmartWaste at the moment, and that's growing all the time. This could be used by design teams to inform the design of buildings," says Blofeld, "All the data is recorded at project-level, so if I'm the person responsible for deliveries on site, when I've had a delivery of concrete or timbre, whatever the material is, I simply record it in SmartWaste and that allows me to report on my embodied carbon."
With SmartWaste, firms don't have to worry about carbon calculations, as the software can perform them all. It can also identify whether or not a material has been responsibly sourced.
Launching soon: the Built Environment Carbon Database 
As well as measuring the impact of raw materials, there's an appetite within the built environment to measure products, such as plasterboard.
The Built Environment Carbon Database (BECD) is scheduled to launch in October 2022. One half of the database will focus on the whole building, with users able to extrapolate data at building level, and the other will focus on individual products. 
"For the product-level data, this will support the design stage as well as operational stages. The goal is that it will lead to better quality data for assessment of carbon on your projects."
SmartWaste will link to the BECD database through APIs. SmartWaste can also link to a company's in-house carbon reporting system, as long as the in-house system also has an appropriate API (to facilitate the flow of data).  
What is the Science Based Targets initiative?
Lots of companies are signing up to Science Based Targets, says Blofeld. SBT is a framework that provides "a very clear structure and path for setting your near-term and long-term [carbon] targets," and "the reason it's gaining in popularity is that it's very precise and methodical." 
The longer term targets encompass net zero ambition, and align with the Paris Agreement. 
"The SBT initiative also gives validation and full company disclosure. You can go onto the website, set your targets and those targets can be validated. That's what many of our clients are already doing," adds Blofeld, "But the problem with this is that you can't really target until you understand your baseline, and that requires hard work and a lot of measurement." 
In other words, you've got to be consistent in what and how you measure first before setting your net zero targets. 
Countryside is a large house builder and a SmartWaste user. It launched a new sustainability approach in May 2021 and signed up to the SBT initiative, setting 27 targets around carbon, waste, water, materials etc. 
SmartWaste is also working with the refit and refurbishment specialists BW.
Like Countryside, before adopting the SmartWaste tool, BW relied on spreadsheets for carbon reporting. The company has an extensive supply chain, so requires an accurate and centralised system to manage Scope 1, 2 and 3 monitoring and reporting.  
"The last case study is Colas. It's a very big contractor and one of the advanced leaders in transport infrastructure across 50 countries worldwide, mainly around civil projects and maintenance of roads, highways and airports, etc.," according to Blofeld. 
"It's doing a lot of reuse and repurposing of materials for all projects and has set targets to reduce its global carbon emissions by 30% by 2030. Colas' Environmental Manager used to spend two days a month producing the company's carbon report, and now they can press a button and produce it in a matter of minutes," Blofeld said.