Let's take a trip back to March of 2020.
The realities of the Covid-19 pandemic were just beginning to set in. Across the world, companies were closing down their offices and sending employees home to transition to remote working positions for an uncertain amount of time.
Although unnerving, the health crisis accelerated the world several years into the future by forcing the global workforce to adopt what many were already predicting: distributed workforces operated by advanced technology.
However, as professionals became settled into this new way of working, a new stressor began to emerge from the shadows: Zoom fatigue.
Initially, new remote workers were enticed and even excited about their new arrangements. No longer would they have to spend hours of their morning getting dressed in office clothes and making their long commutes through traffic.
But all good things must come to an end.
Companies who were unprepared for the sudden transition to remote working soon turned to back-to-back virtual meetings to keep a sharp eye on employees.
That's where Zoom fatigue began to take hold of the new population of remote workers.
---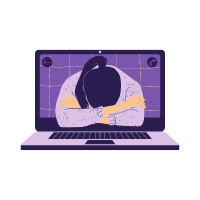 The definition of Zoom fatigue is relatively self-explanatory —  it refers to the stress and exhaustion associated with several virtual meetings that are often required to be attended.
Unfortunately over time, these mandatory meetings become much harder to mentally process, especially when you and your colleagues are working from your homes in the midst of the health crisis.
Picture this:
You're working 40 hours (maybe more) every week, in the same corner of your home five days straight. The majority of this time is spent staring into a webcam with your microphone on mute until you patiently wait for your name to be called so you can give a five-minute update on projects you are currently working on.
And then there are still 55 minutes left in the meeting.
Because of the convenience of Zoom meetings, many employees feel that they cannot say no to attending, even if that means their work takes a hit.
However, the overuse of virtual meetings is having a clear impact on the way employees function. Not only is it increasing feelings of performance anxiety, but having to "be on" during these meetings is harmful to the mental health of workers.
---