Let's take a trip back to March of 2020.
The realities of the Covid-19 pandemic were just beginning to set in. Across the world, companies were closing down their offices and sending employees home to transition to remote working positions for an uncertain amount of time.
Although unnerving, the health crisis accelerated the world several years into the future by forcing the global workforce to adopt what many were already predicting: distributed workforces operated by advanced technology.
However, as professionals became settled into this new way of working, a new stressor began to emerge from the shadows: Zoom fatigue.
Initially, new remote workers were enticed and even excited about their new arrangements. No longer would they have to spend hours of their morning getting dressed in office clothes and making their long commutes through traffic.
But all good things must come to an end.
Companies who were unprepared for the sudden transition to remote working soon turned to back-to-back virtual meetings to keep a sharp eye on employees.
That's where Zoom fatigue began to take hold of the new population of remote workers.
---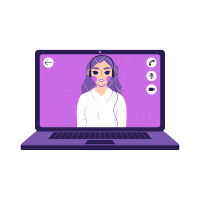 It comes as no surprise that  Zoom fatigue and other managerial failures can have a significant negative impact on a remote workforce.
For starters, time spent on Zoom means time spent away from actively working on projects.
Distracting from tasks at hand just to sit quietly behind your computer's webcam means you're constantly playing catch up. Decreased productivity means decreased job satisfaction, which does not benefit employees nor business leaders at the end of the day.
Beyond pay, what would keep an employee on at their jobs if they were not able to exercise their best skills because they had back-to-back virtual meetings?
Not only does this method of business operations impede on productivity, it also has a direct impact on how creative employees are. Zoom fatigue means less time to flourish, and because of this, the patience of job dissatisfaction tends to grow thin.
Ask yourself this:
Have you ever been in the midst of a workflow only to have it interrupted? The frustration can completely interfere with the quality of your work.
Now imagine consistent interruptions that extend by over an hour, multiple times each day. 
Along with the clear annoyance this causes employees, it also means that deadlines are missed, projects are bottlenecked, and workloads pile up. This forces workers to put in longer hours, which again, often leads to burnout.
If you think you are on the cusp of burnout, it's important to identify the symptoms, such as:
Cynicism about your job
Dragging yourself to work
Irritability with colleagues and clients
Lacking energy
Difficulty concentrating
Decreased job satisfaction
Using alcohol, food, or drugs to numb feelings of work-related distress
Poor sleep habits
Chronic health ailments like headaches, stomach problems, etc.
It's evident that the impact of burnout goes beyond feeling bummed.
There is a simultaneous mental health crisis happening alongside the pandemic, and Zoom fatigue is a huge contributor.
Pew Research shows that workers who are experiencing burnout are 63% more likely to take a sick day, 13% less confident in their performance, and 23% more likely to visit the emergency room.
Even more, Stanford Graduate School of Business finds that workplace burnout can cost companies between $125 billion to $190 billion each year in additional healthcare spending.
The financial expense isn't the only thing that should be of concern to employers — it's the difference between having healthy employees, and seeing workers abandon their posts due to declining physical and mental health.
Workplace stress is normal, there's no doubt about it.
But finding yourself dreading your day from the moment you wake up is not.
The anxiety and stress of work can quickly pile up and begin to impact both your work performance and your home life, especially when working remotely.
Feelings of having to constantly perform during virtual meetings and have an open schedule for even more meetings means that the pent up negative emotions of the work day will likely seep into your work-life balance.
And what is the benefit of remote working if there is no work-life balance?
The common belief that you should pull yourself up by the bootstraps is not applicable to today's workforce. Zoom fatigue is real.
---