Let's take a trip back to March of 2020.
The realities of the Covid-19 pandemic were just beginning to set in. Across the world, companies were closing down their offices and sending employees home to transition to remote working positions for an uncertain amount of time.
Although unnerving, the health crisis accelerated the world several years into the future by forcing the global workforce to adopt what many were already predicting: distributed workforces operated by advanced technology.
However, as professionals became settled into this new way of working, a new stressor began to emerge from the shadows: Zoom fatigue.
Initially, new remote workers were enticed and even excited about their new arrangements. No longer would they have to spend hours of their morning getting dressed in office clothes and making their long commutes through traffic.
But all good things must come to an end.
Companies who were unprepared for the sudden transition to remote working soon turned to back-to-back virtual meetings to keep a sharp eye on employees.
That's where Zoom fatigue began to take hold of the new population of remote workers.
---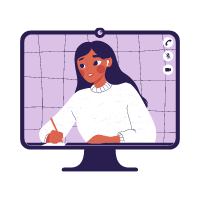 Similar to other work-related stressors, Zoom fatigue can be caused by a variety of external factors.
Due to the exhaustion and saturation that multiple virtual meetings each day can have, workers often feel like they cannot achieve a seamless workflow that is essential for productivity.
Instead of being able to focus on a specific task at hand for an hour or two at a time, this flow is interrupted by having to attend a meeting that most likely could have been an email.
Because of these constant meetings, employees often feel like they always have to perform in order to stand out and make progress in their careers. However, this sense of always being on leaves little room for true, personal, and authentic connections with colleagues.
Another important factor that can contribute to Zoom fatigue is the stress of managing new software. While some employees may have the connectivity and know-how when dealing with new technologies, others may not be equipped with the tools and resources that make virtual meetings pleasant.
Yes, technological mishaps happen all the time. But if you're a worker who is frequently dealing with microphone static, poor Wi-Fi connection, or outdated devices, attending a virtual meeting can quickly go from annoying to outright frustrating.
Lastly, although some workers may have felt that they would be able to escape the clutches of their micromanager when working from home, remote arrangements may have actually worsened this problem.
How can you tell if your boss has entered micromanagement territory? Think about the following. Is your boss:
More focused on employees rather than customers?
Holding frequent performance reviews?
Requiring employees to install tracking software onto their work devices?
Causing projects to bottleneck because of constant meetings and gatekeeping?
Instilling fear into employees to share their true opinions?
If the answer is yes to any or all of these questions, you are probably feeling the pressure of a micromanaged workforce.
In a distributed work environment, these actions tend to be magnified. Because micromanagers cannot physically look over your shoulder to see the progress you've made on a specific project, they substitute this by holding incessant meetings that, in reality, are superficially beneficial to them.
This trait is particularly evident among companies who are adopting remote working positions for the first time and have little to no experience in executing this arrangement in an optimal way.
These methods of management are not only disadvantageous to a company's bottom line, employees often feel like their privacy is being impeded on.
And it's clear that employees are taking note of what these technologies imply.
Research from Chartered Institute of Personnel and Development (CIPD) showed that 73% of employees feel that workplace monitoring software could damage trust between workers and their managers.
Even more, 80% to 93% stated that this kind of technology has done nothing to improve their business performance.
So what's the point?
While it's easy to overlook this type of manager-employee relationship, it can be quite toxic to the entire workforce.
In fact, a survey by IT support company Trinity Solutions revealed that 79% of respondents have experienced micromanagement. Even more, 69% stated that they considered changing jobs due to micromanagement, and 36% actually did.
The findings research also showed that 71% said that having this type of relationship with their manager directly impacted their job performance, while 85% stated their morale was negatively affected.
Let's be clear — this method of managing is less about productivity and more about a power trip.
More importantly, the overall lack of trust and increased stress in the workplace can have detrimental effects on business.
---