Let's take a trip back to March of 2020.
The realities of the Covid-19 pandemic were just beginning to set in. Across the world, companies were closing down their offices and sending employees home to transition to remote working positions for an uncertain amount of time.
Although unnerving, the health crisis accelerated the world several years into the future by forcing the global workforce to adopt what many were already predicting: distributed workforces operated by advanced technology.
However, as professionals became settled into this new way of working, a new stressor began to emerge from the shadows: Zoom fatigue.
Initially, new remote workers were enticed and even excited about their new arrangements. No longer would they have to spend hours of their morning getting dressed in office clothes and making their long commutes through traffic.
But all good things must come to an end.
Companies who were unprepared for the sudden transition to remote working soon turned to back-to-back virtual meetings to keep a sharp eye on employees.
That's where Zoom fatigue began to take hold of the new population of remote workers.
---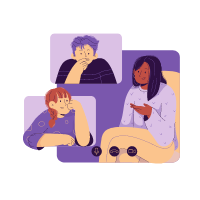 If you've ultimately realized that Zoom fatigue has caught up with you and want to find ways to change the path you're going down, it's not too late.
Whether you're a business leader or an employee, there are many tips and tricks that can help mitigate any additional work-related stress. 
The most impactful change can start with simply asking the question: "Is this meeting necessary?"
Once you've established the necessity of each meeting, future meetings will enable even more productivity and engagement since there is a rejuvenated sense of purpose when team members come together.
However!
If you do feel like there is messaging or an announcement that needs to get to all employees or specific teams, you can introduce new forms of communication that make it easier to reach out to everyone without dragging them on Zoom.
This can range from:
Instant messaging (Slack, Google Teams, etc.)
Emailing
Quick phone call
One-on-one meetups
Not only is this a great method of getting any important or relevant announcements to everyone, it opens the door for people to contribute more meaningfully without fear of talking over coworkers on Zoom.
Another ideal strategy to avoid Zoom fatigue is banning meetings from being held on specific days or times. This preference for this type of policy may differ across each employee, so think about giving them a say in when they can have a Zoomless day during their week.
Some companies have already committed to Zoom-free Fridays. For instance, Citigroup CEO Jane Fraser recently told staff that she would be banning internal video calls on Fridays, as well as instituting a company-wide holiday called Citi Reset Day on Friday, May 28.
Fraser stated that by implementing this policy, she hopes that workers will be able to achieve a better work-life balance and mitigate any risk of fatigue that has been widespread across the workforce. 
She expressed that remote working often causes the lines between home and work to blur, which prevents workers "from recharging fully, and that isn't good for you nor, ultimately, for Citi." 
Fraser has a point. The stats don't lie.
Citigroup also revealed their post-pandemic strategies, which for most employees will be a hybrid arrangement that allows them to spend three days in the office and two days at home or an alternative workspace.
Hybrid models have skyrocketed in popularity as companies plan for pre-pandemic strategies, and utilizing this arrangement may actually help your company address the impact of Zoom fatigue.
For instance, Allwork.space features numerous affiliates that offer virtual office and flex space rentals. 
By incorporating these space solutions into your company's operations, employees who may normally be stuck at home can have an alternative, creative work environment that can boost their creativity and productivity. 
Even if they have to attend a virtual meeting, they can do so in an environment with high-speed connectivity, work-related amenities, and no distractions so they can actually have a successful work day.
It's still important to note the Zoom meetings do hold value if used appropriately. 
So if you feel that you need to talk to employees over video chat, try adopting person check-ins instead of group meetings. 
Doing so allows other workers more time to concentrate on their own tasks, works better with their schedules, and also sends the message that you want to hear from your employees on a more personal level.
Personal check-ins can occur monthly and cover a variety of topics including:
Personal lives and hobbies
Work performance
Brainstorming sessions
Areas of improvement
Suggestions for improvements on both ends
Having one-on-one discussions is essential for a healthy workforce, and by shifting to them, staff members get the sense that you want them to have an optimal work experience.
One of the most important lessons to take away from the past year is to start receiving more feedback from employees. 
These personal check-ins are a great time to let staffers to express any desires or issues they may be having, whether professional or personal, and work with them so they feel supported in whatever experience they are having. 
---