Let's take a trip back to March of 2020.
The realities of the Covid-19 pandemic were just beginning to set in. Across the world, companies were closing down their offices and sending employees home to transition to remote working positions for an uncertain amount of time.
Although unnerving, the health crisis accelerated the world several years into the future by forcing the global workforce to adopt what many were already predicting: distributed workforces operated by advanced technology.
However, as professionals became settled into this new way of working, a new stressor began to emerge from the shadows: Zoom fatigue.
Initially, new remote workers were enticed and even excited about their new arrangements. No longer would they have to spend hours of their morning getting dressed in office clothes and making their long commutes through traffic.
But all good things must come to an end.
Companies who were unprepared for the sudden transition to remote working soon turned to back-to-back virtual meetings to keep a sharp eye on employees.
That's where Zoom fatigue began to take hold of the new population of remote workers.
---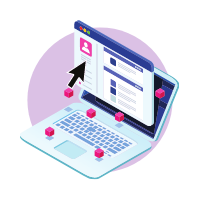 There is often a knee-jerk reaction to the idea of incorporating tracking software within a distributed workforce, and understandably so.
But if you are still concerned about how to keep track of work performance, there are less invasive ways to adopt tracking analytics software that can take the place of checking in via Zoom.
Before you decide to incorporate this type of tool, understand your purpose in needing this technology and don't abuse it.
Ask yourself:
Are you trying to improve overall productivity?
Are you attempting to enhance the remote working experience?
Are you applying greater pressure to make sure remote working policies are not abused?
The end goal must emphasize a healthy employee experience, because without it, your business ultimately fails.
Be wholly transparent about why you want to use this software. 
This includes ensuring there are safeguards in place to prevent any abuse of these tools and addressing any discrimination that could occur as a result of this software.
Yes, tracking technology has been found to be inherently discriminatory. So be ready to assume that employees' initial reaction won't be pleasant. 
For instance, Applicant Tracking Systems (ATS) that are used by over 90% of employers have been found to be discriminatory based on the methods it uses to eliminate specific job applications.
ATS takes applications, reviews them, and does away with ones depending on specific keywords it looks for, what the applicant has listed as their past salary or salary expectations, education level, gaps in their work experience, and other factors. 
Doing so closes the door on many highly-qualified candidates, decreases the opportunity to diversify the workforce, and emphasizes hiring tropes that are outdated.
This is especially problematic since women are historically paid less than their male counterparts. Using these hiring methods could force a candidate to settle for less pay, furthering the gender wage gap that has long plagued the country.
So, while it seems safe to assume that technology would be void of inherent bias, it's not out of the question to assume that tracking software may target specific employees.
However, workers may be much more receptive to the adoption of this software if they have an understanding that these tools are:
Being utilized ethically
Will not impede on their privacy
Could actually improve their own remote working conditions
Take the time to receive employee feedback before implementing tracking tools, this way you can see which approach will be beneficial for all work styles and the company as a whole.
The overall theme here is: Let employees have a say. 
They know firsthand what is best for their workload, and their opinions should be valued during every business-related decision. Listening to staffers not only shows that their input is valued, but that the company's first priority is to accommodate the employee experience.
The best method of incorporating tracking software is to avoid adopting tools that monitor the employees physical activity. For instance, some tracking software will actually take photos of workers every few minutes to ensure they are sitting at their home computer and present.
Historically, presenteeism has done little to improve productivity.
In fact, the World Economic Forum has found that presenteeism is more harmful than absences, and is estimated to cost U.S. organizations up to $226 billion each year.
The impact that presenteeism has on the workplace is similar to that of Zoom fatigue. Workers often express feelings of anxiety, stress, depression, and inevitably burnout.
Luckily, some of this tracking software gives you more noninvasive options, so employees don't feel the pressure of constantly being monitored, eliminating the sense that their privacy is being violated. 
At the same time, you can reap the benefits of this technology and have access to workplace insights, such as projects, tasks, and some communication, and alter certain operations to ensure that the company is running as seamlessly as possible.
Both employees and business leaders must come to terms with the fact that remote working is here to stay for much of the world. With that comes the responsibility of holding staff to a high standard.
But this doesn't mean relinquishing all trust that had been built pre-pandemic.
Communication will be key during this transition, so create a culture of of openness and transparency by:
Being open about new modifications to workplace operations

This should include the adoption of new software, work policies, overall expectations, etc. 

Receive feedback from employees

Use monthly employee surveys to hear out concerns, suggestions, or other opinions that could be valuable to the company

Take note of what will ultimately benefit the employee experience
Overall, if you're able to be honest and willing to receive employee feedback, your company has the ability to nurture healthy workers who not only produce good work, but want to be a contributing member of the team.
---